As the Wheel Turns ...
Puffball and Little Spot
| | |
| --- | --- |
| Puffball is too little to have such a complicated life! | Little Spot is Puffball's new love. |
Puffball must be part human. Her story is becoming like a soap opera.

She is only about six months old, yet she has already been involved in a love triangle, and has been in a relationship that seemed wonderful at first, but had to end because her partner became abusive.

So now we have introduced Puffball to Little Spot.


We all agree that Little Spot is Puffball's last chance for happiness in a relationship. If this relationship does not work out, Puffball will have to become an independent desert hamster living by herself.



This episode of As the Wheel Turns went as follows:

I placed Puffball and Little Spot in a ten gallon tank with a divider. Little Spot kept trying to dig under the divider to be with Puffball. She was hesitant at first, but after a few hours they slept right next to each other with just the divider between them ...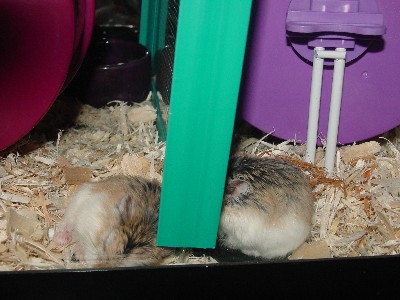 Little Spot and Puffball wanted to be together.
I removed the divider after about 24 hours ...
Little Spot swept Puffball off her tiny little feet ...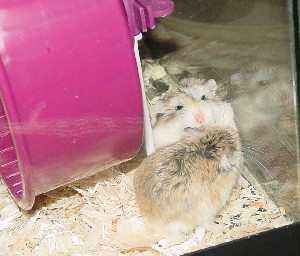 First kiss ... behind the wheel
In less than three days, Puffball realized she was expecting babies and she and Little Spot started building a nest.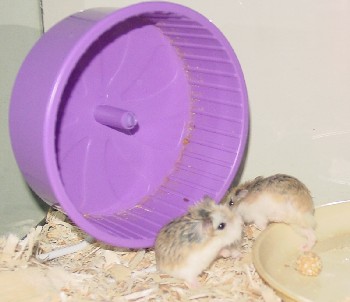 More kissing ...
We hope that this time Puffball really will live happily ever after!
Puffball's story - Part 1...
Puffball's story - Part 2...
Puffball's story - Part 3...
Puffball's story - Part 4...
Puffball's story - Part 5...
Back to Home Page
Text, photos, and source code © Merry L. Morris