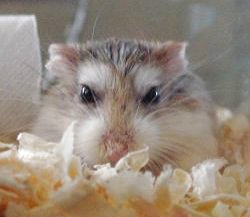 Bright Spot had to be separated from the others in the pet shop. He likes to live alone. He didn't even want to live with cute little Puffball. He is a clumsy little guy, unlike all the others. Maybe he likes to live alone because he can't keep up with our other, fast-paced desert hamsters. But he seems very content with his daily routine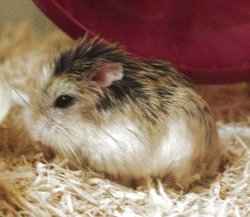 But Puffball is so tiny! She hates to be alone. When she is alone, she sits and looks sad. She is only happy and playful when she is with at least one other desert hamster. We brought her pet shop cagemates, Buffball and Fluffball, home to live with her, and things went well at first ...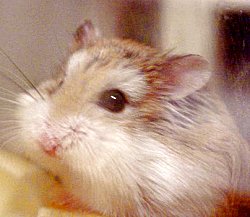 Buffball is a gentle "giant". He is bigger than most desert hamsters (almost 3 inches long), but he gets along well with whoever shares territory with him. Even nasty little Fluffball loves him. He did not mind sharing territory with both Fluffball and Puffball, but Fluffball became jealous and threw Puffball out of their happy home.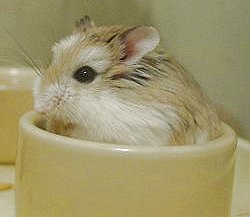 Fluffball is so cute, but she is a little bully. Usually desert hamsters can live happily in groups, but she does not want to share her mate, Buffball, with any other desert hamster, especially not with poor little Puffball. Fluffball would not even wait long enough for us to find a friend for Puffball before she threw Puffball out of their once happy home.